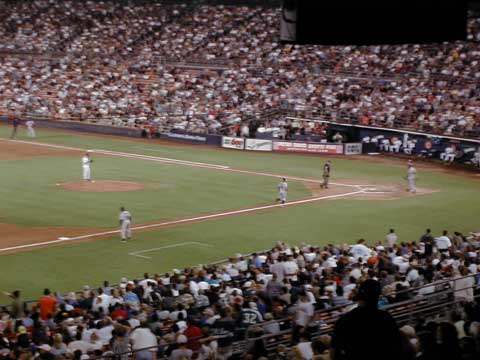 Bobby Estelella breaks up Eaton's perfect game with a shot to left!
Marvin Benard would be next...and the pitch...
Waaaay back in Right Field...Gone...2-1 Giants!
Bill Mueller greets Benard after his game winner. The Giants Congratulate Rob Nen after he closes the door on the Padres Giants head for Chicago!

Free Satellite System from Dish Network!
FIRST WIN!
FIRST Splash hit!
FIRST SLAM!
KENT'S Game Winner!
Cardinals Pics!
The Cubbies!
Giants!
The Phils!
Giants vs. Reds!
Giants vs. A's!
Giants vs. Rangers!
The Fans!
The Rockies!
Giants at The Murph!(Qualcomm)
Gallery!
The Mariners!
The Dodgers!
The Bucs!
The Brewers!
EMAIL US!!Submit your LINKS, PICTURES, & COMMENTS!